By Jaclyn Amaru
Some may ask why hoof care is so important, especially being that hooves are dead tissue. The answer is because horse hooves encapsulate the entire "living" foot made up of bone, ligament, tendon, arteries, veins and capillaries. I am sure you've heard it before, "no hoof, no horse." Our horses' hooves are one of the most important body structures to the horse anatomy. They act as shock absorbers and are highly vascularized with thousands tiny capillaries. Therefore sore, cracked or diseased hooves can greatly impact the way our horses perform, as well as their emotional livelihood. You can be proactive to avoid some of these ailments before they strike by incorporating a hoof care regimen into your daily routine."
Know Your Hooves
Check your horse's hooves multiple times a day; before and after rides and before and after turnouts. If you notice that your horse is lame, sensitive or frequently alternating between lame and well, it may be time to have his hooves looked at more closely by both your farrier and vet. You may also want to consider a thermographic hoof balance exam. Thermography can offer a deeper look into hoof dynamics weeks before lameness even sets in. Some common problems that can often be encountered are thrush, abscesses, bruises to the sole, cracks of varying severity or more severe issues like laminitis or white line disease. Depending on severity, lameness related to these conditions can last weeks to months, so it is imperative to know your horse's baseline and be able to identify a problem early.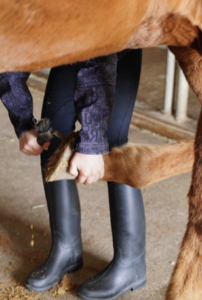 Prevention is Key
We can be doing many things to help our horses have healthy, strong hooves. A good start is first picking out and brushing off hooves constantly.  Secondly, hydration and diet is vital in two ways; fresh, clean drinking water to keep the horse's body balanced with proper electrolytes, minerals and vitamins, as well as hydration to the hoof itself.  If you live in a wet environment, you will also want to limit turnout time during peak wetness hours, while in more arid climates hooves may benefit from a regular conditioning regimen to build strength and prevent cracking. Biotin supplements may also have some added benefits, but can take anywhere from six months to a year before benefits can be appreciated in new hoof growth.
Another way to build strong hooves is to give consistent exercise regimens on good surfaces. Importance is placed mainly at the walk and trot with the aim being to increase circulation to the hooves, thus promoting growth.  We can also think about encouraging better circulation via myofascial horse massage with cross-fiber techniques.  An easy to use, hand-held tool to achieve this is the Posture Prep groomer that goes above and beyond your ordinary curry comb.  Its flexible teeth have just the right amount of grip to penetrate the deep fascial layers that lock up muscle. Within that muscle and coursing all the way to the hooves are the arteries and capillaries supplying the tissue with necessary oxygen and nutrients. Using Posture Prep, developed by Dr. Pat Bona, promotes healthy vasculature and a strong circulatory system, which in turn aids in prevention of disease and healing when needed. Furthermore, Posture Prep encourages lymphatic drainage, the system responsible for filtering toxins. Posture Prep should be a component in everyone's stable supplies for horse grooming hooves.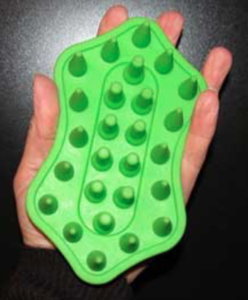 Protection
Proper protection is another key element to successful hoof health. This means considering bell boots that afford proper coverage of the coronet band, where new hoof growth initiates from and the heel bulbs, and when shipping adding a full shipping bandage as well. One could also consider substituting a good quality Velcro shipping boot. Protection also includes checking the shoe when examining the hooves and scheduling regular farrier appointments. Check that the nails still sit flush to the hoof wall and that the shoe has not shifted or worse pulled away. Any problems with the aforementioned require immediate attention as it indicates shoe loosening and your horse is at risk for his hoof being injured.
Barefoot Option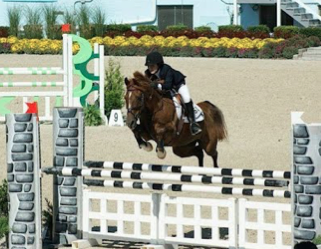 If you follow all these instructions and still find your horse is having serious health related hoof problems, then it may be time to consider riding barefoot.  Horses were born without shoes after all.  While some may argue that domesticated horses have different needs than wild horses; advocates for natural hoof care claim shoeing doesn't allow for the normal wear on the hoof wall allowing it to grow longer than it would naturally thus leading to cracks.  Keep in mind that you cannot just remove shoes and  go back to riding. Thin soles must form a callous before the horse will start to feel comfortable walking on hard surfaces. A farrier that is well-versed in "barefoot trimming" (versus the traditional "pasture trim") and transitioning your horse to this preparation is ideal. Going barefoot is a big commitment, but equestrians all over have been reaping the benefits. From nationally recognized Katherine ("Katie") Pontone on board "Wicked" during her win of the 2012 National Pony Jumper Championships to her most recent mount "Belladonna," to the dressage ring with US Federation Gold, Silver and Bronze Medalist and three time National Championship Competitor Shannon Peters, along with her husband Steffen, all of whom sport high-ranking, barefooted mounts at the performance levels.
Allow your horse to keep putting his best hoof forward by doing daily checks, keeping a routine maintenance schedule with your farrier and incorporating wellness techniques like massage with a Posture Prep tool.  Shoes, or no shoes, all horses need hoof TLC.