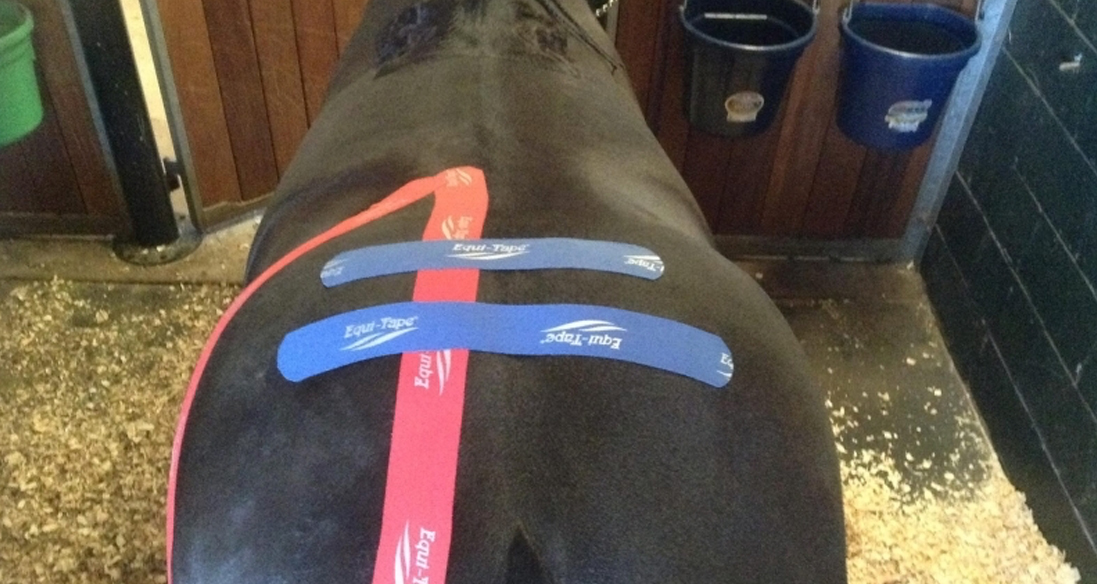 Dr. Pat Bona has created a legacy in equine wellness by changing the approach to grooming and evaluating a horse. She teaches her clients and followers that "posture is the language of the horse™" as she educates them on the concepts and shares a standard approach to equine management. The first step is to uncover the problem areas that can compromise a horse's fitness and performance and then learn to manage these areas with a daily Posture Prepping routine.
Posture Prepping for Equine Wellness
Everyone from novice horse owner to the performance veterinarian can apply the Cross Fiber Grooming system for evaluation and treatment of their own horse. Dr. Pat founded the Posture Prepping System on her knowledge of human therapeutics and the application of transverse friction massage and cross fiber massage to loosen adhesions that can cause postural imbalances. By expanding the concept to horses in 1997, Dr. Pat developed the technique for her own horse's benefit and has been teaching it to the equine world ever since. She introduced the complete package to the horse world in 2011, consisting of the Posture Prep tool and the Cross Fiber Grooming system.
When teaching audiences how to use the Posture Prep Groomer, she starts by introducing the phrase "Dents and Dings™" to refer to old injuries and scar tissue that lead to postural and myofascial imbalances in a horse. Because it can be difficult for most people to identify the Dents and Dings, Dr. Pat describes the RedFlags™ a rider or owner can identify to understand where problems exist. RedFlags include such common visual defects as white hairs, bubbles, concave areas, and loss of hair. Although a wound or injury may heal on the outside, there are often residual areas of damage inside and clearing these areas of myofascial pain and restrictions will help the soft tissue to heal.
Understanding these influences on posture is the basis for the hands-on approach of the Posture Prep Cross Fiber grooming technique, an innovative way to rehab and maintain a horse's fitness. The goal is to reduce the postural and biomechanical imbalances that can affect performance and your horse's overall well-being. Dr. Pat is also certified as an equi-tape practitioner and in addition to Posture Prepping, she uses kinesiology taping to facilitate myofascial and postural changes.
Gait Analysis
Dr. Pat has developed an approach to hind end gait analysis that she calls the Ratchet Sign™. She introduced the concept to the AVCA as a practical and efficient way to evaluate hind end gait dysfunction. The approach allows someone to assess hind end biomechanics and evaluate for treatment areas and concerns that may also be associated with RedFlags (mentioned above).
To better inform her clients on horse biomechanics, she is currently working on a teaching format for front-end gait analysis as well as writing a manual on Dents and Dings, RedFlags, Functional Axes of Rotation, and the Ratchet Sign.
Lectures & Clinics
She lectures and gives hands-on clinics to help improve equine postural management.
Her venues have included:
Hassler Dressage at Riveredge's Inaugral Wellness Symposium where she lectured on "Assess and Address the Horse's Postural and Myofascial Imbalances"
The American Veterinary Chiropractic Association where she introduced the concept of the Ratchet Sign.
Dr. Pat is available for individual Posture Prepping consultations (locally) and for speaking at local or national events.
The Power of Posture Prepping
Instructional & Educational Opportunities
Inquire about speaker & clinic opportunities: