Part 2: Then, there was SOME order…
In last week's piece, I showed you where I started with my home, car and barn tack room chaos. As you could probably tell from the photos, it was not a pretty picture! I have so much stuff – I mean, I knew I had a lot of horse items, but I really did not know the depths of my addiction until I started digging into it. As you will recall, I'm basing my organizational methods on The Life-Changing Magic of Tidying Up: The Japanese Art of Decluttering and Organizing, by Marie Kondo. Her KonMari method has changed the lives of many people by allowing them the freedom to de-clutter using one simple principle: If you don't love it, don't keep it!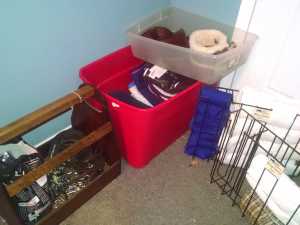 I quickly realized after I started that I would have to adapt the principles to work in this particular case. For instance, the KonMari method typically requires that you organize one type of item at once, but, obviously for our purposes I chose to stick to one category at once – horse equipment! According to Marie Kondo, a well-organized space should be able to hold many items – well, isn't that what we all would like? Additionally, I found that this method works particularly well for those of us who have small spaces that we need to maximize. As you can see, my laundry room does quadruple duty now – as a tack room, laundry room and mud room, plus having space for our cat.
In both my car and my home tack area, I have chosen to utilize large and small boxes and containers to organize my items. I was shocked at how much easier it was to find things once they were folded and sorted into bins. The biggest thing about organizing these two areas was sorting through the items that I no longer intended to keep and throwing out the trash first! I have so many old, worn out leg wraps – why on earth am I keeping them?
One other thing I noticed was how many items, particularly saddle pads and coolers, I was keeping out of sentimentality. Not only do I no longer use these items because I no longer have the horse(s) they belonged to, but they are responsible for a massive amount of cluttered space. Give yourself the freedom to let go of items that belong to horses you no longer have – by getting rid of an old saddle pad through a charity or consignment shop, you aren't throwing out your memories or cheapening your time together in any way – you are simply removing clutter and stress from your life and making room for peace and new memories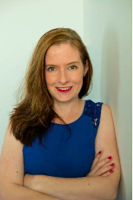 About the Author:
Stacy Bromley Cheetham, MPA grew up riding horses. She currently resides in Raleigh, NC with her boyfriend, her two rescue Pomeranians, an ornery calico cat, and is working with a promising young OTTB, Indelible (Hanna No Sir) who came from the Track to Tranquility race rehoming program. She is a fundraiser for a local nonprofit and is the Silent Auction Chair for Duke Jump for the Children, an AA rated horse show benefiting Duke Children's Hospital.