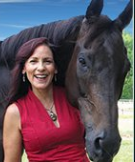 By Dr. Pat Bona
I'm almost used to people telling me that the Posture Prep is just a fancy curry. Or even a glorified curry. And I've decided, "I'll take that as a compliment!" I started thinking about all of the devices or everyday things that we describe the same way and realized that fancy and glorified are the BETTER version of something! With grooming tools, it's also important to think about what you are trying to accomplish. You wouldn't use the little brush on the end of the hoof pick to brush your entire horse. Or think about your saddle – you wouldn't want to use a saddle designed for dressage for jumping or vice versa.
The Posture Prep tool is a glorified way of grooming your horse for a few simple reasons. If I had been satisfied with using a curry to implement my Cross Fiber Grooming Technique, then I wouldn't have spent late nights and early mornings designing and developing a better tool.
So let me explain some of the differences in my "glorified" groomer:

Ergonomic design – Have you ever been grooming your horse and find that you are constantly dropping the curry because it just doesn't fit well in your hand? Some models may be too big, some too small. But how effective is a tool that is sitting on the ground or makes fewer and fewer excursions from the tack box because it is too awkward to handle? I designed the Posture Prep to be easy to grip – an extension of your hand so that it is easier to actually execute the Cross Fiber Grooming Technique. I think you'll find it's much easier to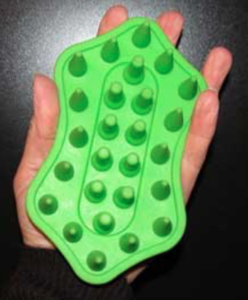 hold which makes it easy to massage your horse effectively. The whole point of the Cross Fiber Grooming Technique is to loosen the fascia and release adhesions and let your horse move more comfortably. Each package also contains a booklet of instructions and information on how to use the Posture Prep effectively.
 Rubber material – I picked rubber as the material for my Posture Prep because I wanted something that was rigid enough to actually massage the muscles and tissues but soft enough to be comfortable for the horse. As you Posture Prep your horse, you have the flexibility to "go deep" in areas where s/he seems accepting but lighten up in areas that are more sensitive.
Varying "fingers" – Take a look at most curries and all of the "fingers" are the same length. Some will have longer fingers around the perimeter and shorter ones in the middle but they are pretty much the same length. I developed the varying heights of the fingers to give you the ability to push in more at the edges of the tool where you can massage a little deeper. Notice how the tip of each finger is a soft rounded point? Again, this makes the tool more comfortable for your horse.
I developed the Posture Prep with you and your horse in mind. I knew that the Cross Fiber Grooming Technique was effective as I've been using and teaching the technique on horses for years. But my goal was to make the system accessible to anyone and I knew a regular curry was not as effective. I designed a tool that, when used correctly, can really help you to keep your horse healthy, happy, and active. I hope you'll enjoy using my Posture Prep, or as some people call it, the "glorified curry."
And don't forget – tools wear out over time. If the "fingers" are starting to look shorter, then congratulations! You've been using the tool to make a difference in your horse's posture and performance but it's probably time to order a new tool. You wouldn't want to keep using a toothbrush once the bristles have splayed because it wouldn't do a good job of cleaning your teeth. It's the same concept with the Posture Prep and replacing the tool at least once a year is a good idea to ensure your "prepping" is a success!