By Jaclyn Amaru
Does your dog enjoy a good romp around in the cold weather? Or are you more likely to find fido snuggled up next to the fire or under the sheets? Whichever activities your furry friend enjoys, be sure to keep him physically and mentally healthy this winter with this easy to follow, toxin-free healthy dog care guide.
Massage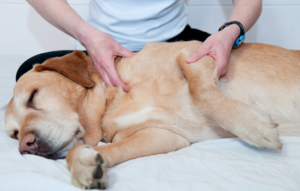 Canine massage is loaded with health benefits like improving circulation, lymphatic drainage and keeping joints mobile. A tool that can aid in massage, such as the Posture Prep grooming tool  can help take ordinary hand massages to the next level. Their ability to work on deep fascial layers utilizing the cross-fiber massage technique makes for the ultimate massage.  Furthermore, when the massage is performed by an actual "pet parent" it releases  endorphins, or the feel-good hormones, linked to the reward center of the brain. So combat the winter blues and keep your pup healthy from the inside out.
Grooming and Bathing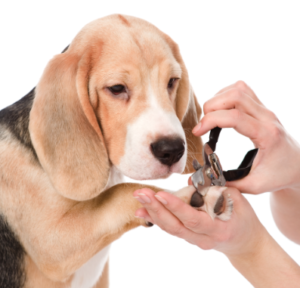 Grooming encompasses many features from bathing to caring for their coat to protecting paws from the elements. Check with your groomer or vet before starting anything new or if you are unsure of a particular regimen.  Some dogs, depending on breed and winter location may be more prone to matting after walks in the mud or snow. The key is to use a shampoo that will help seal in or replenish some of your dog's natural oils because just like humans, the winter air can be drying, causing sensitive, flakey, itchy skin.
Try your hand at preparing a homemade dog shampoo with this recipe of rosemary and oatmeal, both natural ingredients known to nourish coats and combat itching. Incorporate your Posture Prep during bath time to help release dirt and dander for a complete head to paw experience. The other key to bath time is to make sure your dog is completely dry afterwards to prevent becoming chilled or worse, hypothermic.
Hair Cuts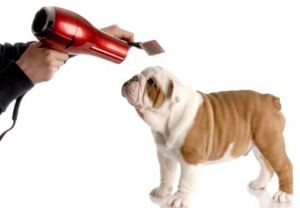 The long of the short is that this is likely breed and dog specific. If your dog spends a lot of time outside in the winter, then keep a slightly longer  and fuller coat to seal in warmth. If your pup is mostly indoors, chances are he won't need to rely on a heavy coat while he is all snuggled up. Keep a sweater or jacket on hand as needed. Brushing is another great way to keep your dog looking and feeling great, especially in the winter months when dirt and dead hair can tend to build up. Posture Prep isn't only a dog massager, it is also a curry comb, which will help to release grit and distribute natural oils.
Paw Care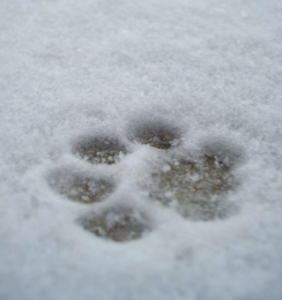 Besides tracking muddy paw prints through the house, there are plenty of other reasons to focus on paw care this winter. Most commonly, the salt people use to melt snow or ice on roads or walkways is both an irritant to your dog's paws and toxic to their health. If not removed, the dog's instinct is to lick it off their paws and will cause sickness. After walks, during heavy salting conditions, be sure to have a warm water bath and towel at the door to soak the dog's paws in to remove these harmful chemicals. For your own home try using a pet safe ice melt.  You can try this DIY pet safe ice melt made with dish soap and rubbing alcohol.
If your pup's paws are cracked, irritated or dry, try rubbing pure coconut oil on them. Protect the paws with a wax seal, here is a DIY homemade remedy, or you can even get reuseable booties.
Finally, if you see any open wounds or cracks on their paws, see a vet immediately for antibiotic ointment. Instituting dog massage with Posture Prep will improve circulation and lymphatic drainage that expedite the healing process.
Senior Care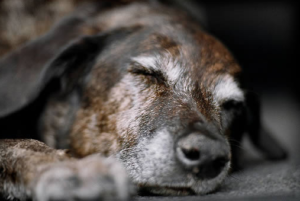 Senior dogs do not regulate their temperature as well as their younger counterparts, so be sure to limit their time outdoors in winter. The cold weather for any senior can also wreak havoc on arthritis. There are several things you should be doing to keep your pup limber. First, use your Posture Prep regularly to relax muscles, improve joint range of motion, increase circulation and reduce straining. Check out Dr. Pat Bona's website for tips and videos on how to your furry friend can benefit most. Next, try herbal supplements to help reduce inflammation and pain. Curcumin, or the main ingredient to the spice turmeric, has long been used in Chinese and Ayurvedic medicine. It has been studied in dogs with osteoarthritis and found to reduce gene expression involved with the "inflammatory response." However, beneficial internal absorption, or the amount that is bioavailable, continues to be challenging. Try making either a turmeric paste or cookie to start off.
Mental and Physical Activity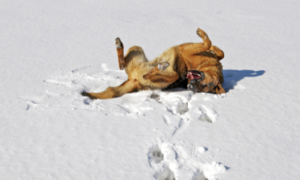 Engaging dogs mentally and physically is very important to their overall health.  Bored dogs who lack stimulation can become depressed, anxious and/or pent up with energy.Try to take walks in the early afternoon when temperatures are warmest, consider scheduling a puppy play date with a friend, make meal and treat time more enjoyable with food puzzles, or try an indoor agility training class. Choose something both you and your dog can enjoy together to prevent the winter blues from getting you both down.
Remember that we humans are not the only species that suffer from winter blues and cabin fever.  Be creative and try new things with your pup this winter in both care and play, it will benefit you both.